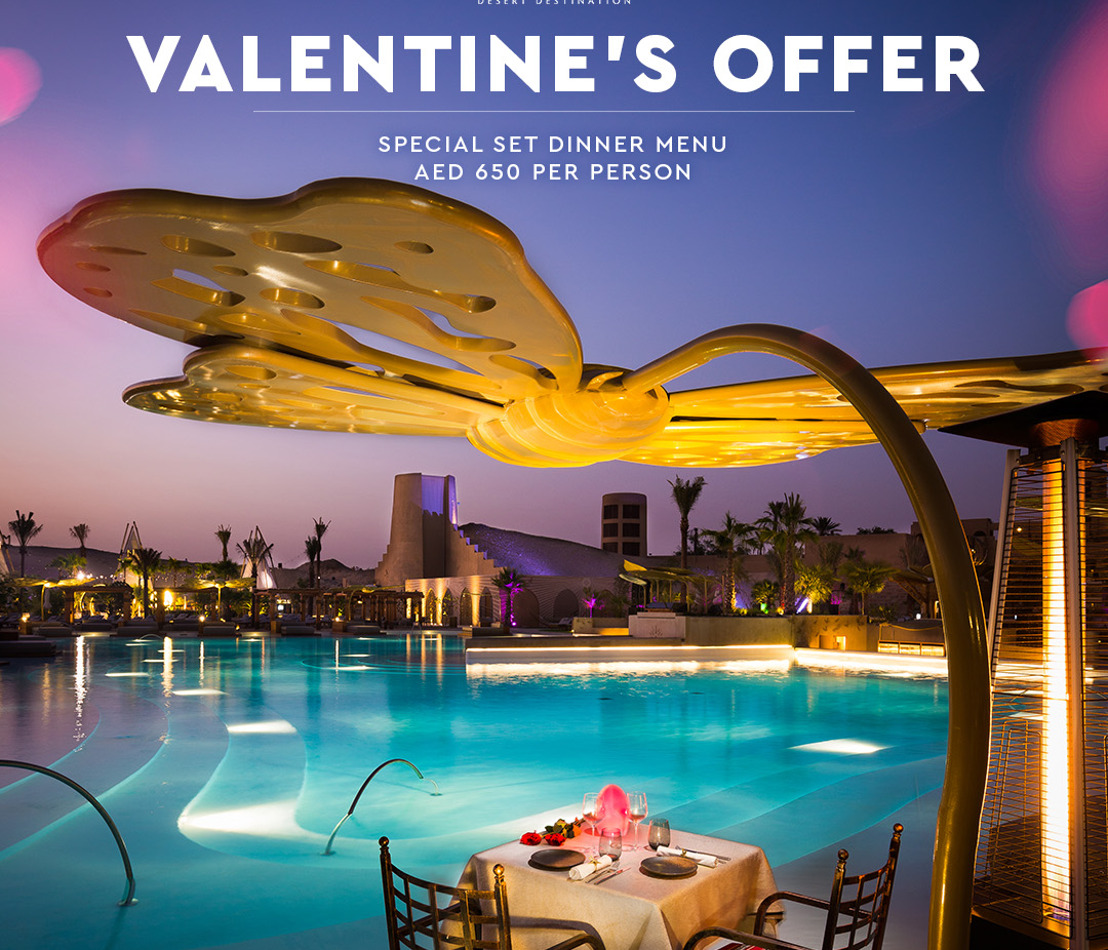 Terra Solis invites lovers to escape to the desert for a romantic Valentine's Day getaway
The ultimate glamping spot is offering guests a unique and memorable way to celebrate love on February 14th
Tuesday, February 7, 2023 - Terra Solis invites lovers to reconnect and relax in a stunning natural setting on Valentine's Day. Located in Dubai Heritage Vision Exit – 29, the popular destination is perfect for guests looking to escape the hustle and bustle of city life.
On February 14th, unwind and enjoy an intimate day in the serenity of the desert, with the option of staying in Terra Solis' unique overnight lodges. Couples will wake up to stunning views of the Arabian desert and enjoy a delicious breakfast treat. Throughout the day, choose to unwind by the pool or simply relax in the desert haven. As the day unfolds, lovers will be treated to an intimate dinner under the stars and experience incredible, cooked to perfection cuisine, priced at AED 2,499 for two.
Terra Solis also invites couples who simply want a day of tranquility. From AED 650, the exciting day pass allows guests to enjoy a slow, peaceful day by the pool and savour a delectable Mediterranean dinner at Mesa. Menu highlights will include Caviar Brulé, delicious milk fed veal tenderloin and signature pandora tree for dessert.
Guests who are looking for a more intimate pool experience, can book the AED 1000 package allowing them to soak up the sun on a pool bed for two and crack open a bottle of bubbles, to celebrate their love.
Whether looking for an overnight celebration or a romantic day in the desert, Terra Solis is the perfect venue for a memorable Valentine's Day.
To book accommodation at Terra Solis Dubai, visit terrasolisdubai.com/en/book-your- stay.
Fact Box:
Price:

Overnight packages, including pool access, breakfast and dinner:

Polaris tent AED 2,499

Perseid lodge AED 3,499

Orion cabin AED 5,499

Daycation packages:

Pool & Dinner AED 650

Pool Bed for 2 with bubbles AED 1000

Time: Opens 10.00 am
Date: Tuesday, February 14th 2023
Location: Dubai Heritage Vision - Exit 29 - Jebel Ali - Lehbab Road, Dubailand, Dubai
To book accommodation at Terra Solis Dubai, visit terrasolisdubai.com/en/book-your-stay.
About Terra Solis Dubai
Extraordinary lunch & dinner experiences
​Terra Solis will feature exquisite dining options ready to amaze guests with great lunch and dinner experiences, either inside or poolside. Opening in March 2023, MESA is inspired by the 'Tastes of the World' cuisine of Tomorrowland, serving typical and delicious flavours from all corners of the globe, designed to be shared.
Guests can enjoy a wide selection of drinks and cocktails at the centrally located bar next to the pool and the Sala shisha lounge. They will also be able to experience the true Tomorrowland madness during a range of exclusive events which will be organised at Terra Solis.
Wake up from a night under the stars
​Guests can start their day at Terra Solis in peace and enjoy an energising breakfast in a soothing atmosphere at their private patio or the poolside restaurant. Terra Solis is home to several unique glamping options, including 48 spacious, luxurious and beautifully decorated Polaris bell tents and 20 Perseid lodges, combining the ultimate comfort and style. There are also six Orion pool lodges, each featuring a private pool and a large private outdoor cabana & terrace. The pool lodges are the real eye-catchers, centrally located near the pool with scenic views over the entire destination, offering guests a truly unique experience.
Tomorrowland presents Terra Solis Desert Destination
​Music – Pool – Tastes – Lodge – Magic
​From November 2022 till June 2023
​Dubai – UAE
​Info & bookings: terrasolisdubai.com
Debby Wilmsen Press Coordinator & Spokeswoman, Tomorrowland
Jordy Van Overmeire PR Coordinator, Tomorrowland