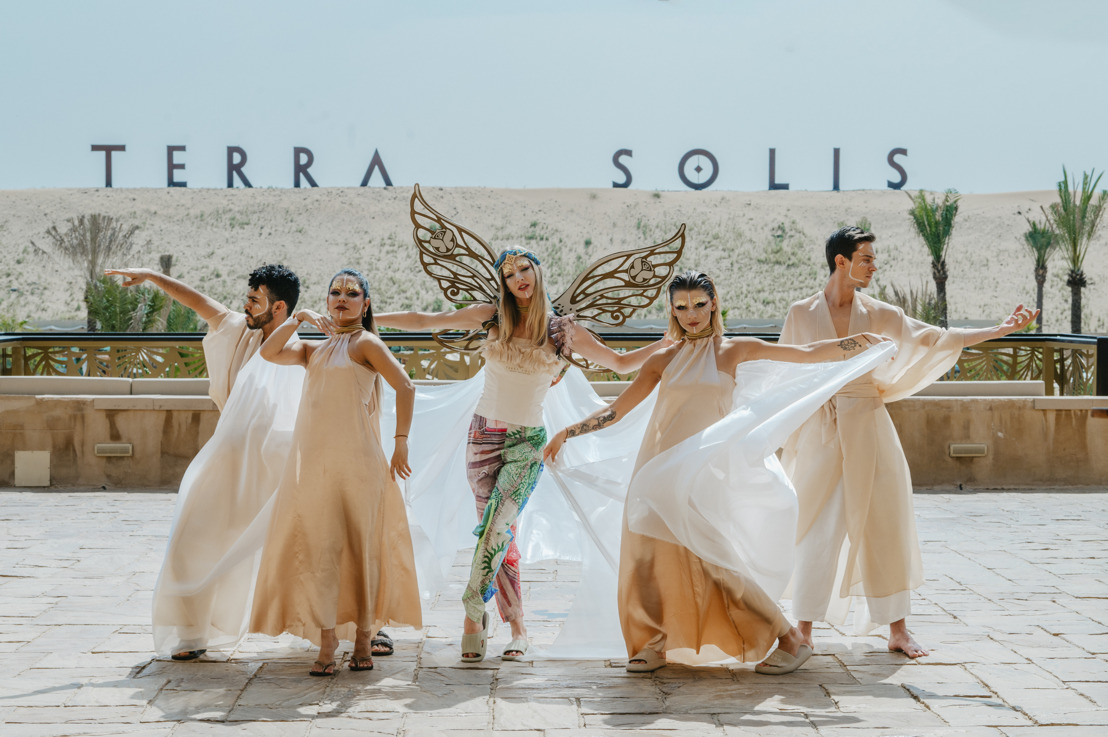 Terra Solis Dubai presents the ultimate season finale: a week of sun, sand, and celebration
The desert destination announces summer closure
Tuesday, June 20, 2023 - Terra Solis Dubai by Tomorrowland is gearing up to deliver a magical summer send-off during the highly anticipated Eid Al Adha break at the end of June. As the season draws to a close at the venue, revellers are invited to immerse in the vibrant desert experience, filled with sun-soaked days, poolside relaxation, and incredible festivities.
Every Monday and Tuesday, gals can experience an exclusive passport to paradise with Terra Solis Dubai's AED 100 offer, treating ladies to a luxurious sun lounger and a signature Terra Solis cocktail. Let the infectious beats transport you to a blissful oasis as you soak up the radiant sunshine and dance the day away.
On Thursdays, guests can experience the exclusive 'United at The Pool' offer, where they can enjoy pool access, a comfortable sun lounger, a selected beverage, and a delightful appetiser for just AED 100 per person. This is the perfect way to break up the week and prepare for a fabulous weekend ahead.
Meanwhile, Fridays are all about making a splash. Guests can dive into the weekend with the irresistible pool access packages at AED 200 per person, accompanied by a 50% redeemable voucher for food and beverages. Visitors are in for the electrifying Ibiza Friday experience, featuring a live performance by the dynamic Quilliam, complemented by the soulful Mambo Brothers' Ibiza sunset mix, meticulously curated by One World Radio. Tantalise taste buds with the delectable specials of the day for just AED 255, including refreshing Sangria and mouthwatering Patatas Bravas, all while basking in the sun-kissed paradise of a poolside oasis.
The weekend excitement continues as Saturdays and Sundays come alive with the pulsating beats of Tomorrowland residents and local heroes, accompanied by captivating entertainment that will keep you enthralled throughout the day.
For those celebrating their birthdays, Terra Solis Dubai has a special treat in store. Guests can enjoy the birthday package at AED 200, which includes pool access for four people and a bottle of Munity Rose. Simply present an ID showing your birthday falls within the same week. Valid on weekdays only.
Additionally, guests can elevate their experience with the Orion pool cabin day-use packages, available all week. From 10 am to 7 pm, groups can indulge in poolside luxury with a welcome fruit platter and a refreshing welcome cocktail/mocktail. As an added bonus, guests can avail a 10% discount on the poolside menu. Guests can choose from the weekday package for AED 4,000 (10 people maximum) or the weekend package for AED 6,000 (10 people maximum), with the entire amount redeemable on food and beverages.
Join Terra Solis Dubai as it bids farewell to the season in style. For bookings and more information, kindly call +971 44 59 8300 or message +971 50 935 2344 via WhatsApp.
Fact Box:
​Location: Dubai Heritage Vision - Exit 29 - Jebel Ali - Lehbab Road, Dubailand, Dubai
Opening Hours: 10 am - Sunset
Mondays & Tuesdays: AED 100 per person - Sun lounger for ladies, including 1 Terra Solis signature cocktail.
Thursdays: AED 100 per person – Pool access, sun loungers, a hand-picked beverage of choice, plus a delicious appetiser.
Fridays: AED 200 per person - Pool access, 50% redeemable on F&B. Ibiza Friday with Quilliam (live) + Mambo Brothers Ibiza sunset mix curated by One World Radio. AED 255 specials of the day: Sangria and Patatas Bravas (includes pool access)
Saturdays & Sundays: Starts from AED 300 per person - 50% redeemable on F&B (regular weekend offers). Music by Tomorrowland residents and local heroes + entertainment
Weekdays: Birthday Offer - AED 200 for 4 people, includes pool access and a bottle of Munity Rose. Valid on weekdays only. Guest needs to present their ID as their birthday has to fall on the same week.
All Week: Orion Pool Cabin Day Use Packages: 10 am to 7 pm. Access to the pool with welcome fruit platter, welcome cocktail/mocktail by the pool & 10% discount on F&B pool menu.

AED 4,000 weekdays (10 people max) – the whole amount redeemable on F&B.

AED 6,000 weekends (10 people max) – the whole amount redeemable on F&B.
TERRA SOLIS DUBAI IS CLOSED FROM JULY 2 UNTIL SEPTEMBER 15, 2023.
About Terra Solis Dubai
Extraordinary lunch & dinner experiences
​Terra Solis will feature exquisite dining options ready to amaze guests with great lunch and dinner experiences, either inside or poolside. Slated to open later this year, MESA is inspired by the 'Tastes of the World' cuisine of Tomorrowland, serving typical and delicious flavours from all corners of the globe, designed to be shared.
Guests can enjoy a wide selection of drinks and cocktails at the centrally located bar next to the pool and the Sala shisha lounge. They will also be able to experience the true Tomorrowland madness during a range of exclusive events which will be organised at Terra Solis.
Wake up from a night under the stars
​Guests can start their day at Terra Solis in peace and enjoy an energising breakfast in a soothing atmosphere at their private patio or the poolside restaurant. Terra Solis is home to several unique glamping options, including 48 spacious, luxurious and beautifully decorated Polaris bell tents and 20 Perseid lodges, combining the ultimate comfort and style. There are also six Orion pool lodges, each featuring a private pool and a large private outdoor cabana & terrace. The pool lodges are the real eye-catchers, centrally located near the pool with scenic views over the entire destination, offering guests a truly unique experience.
Tomorrowland presents Terra Solis Desert Destination
​Music – Pool – Tastes – Lodge – Magic
​From November 2022 till June 2023
​Dubai – UAE
​Info & bookings: terrasolisdubai.com
Debby Wilmsen Press Coordinator & Spokeswoman, Tomorrowland
Jordy Van Overmeire PR Coordinator, Tomorrowland