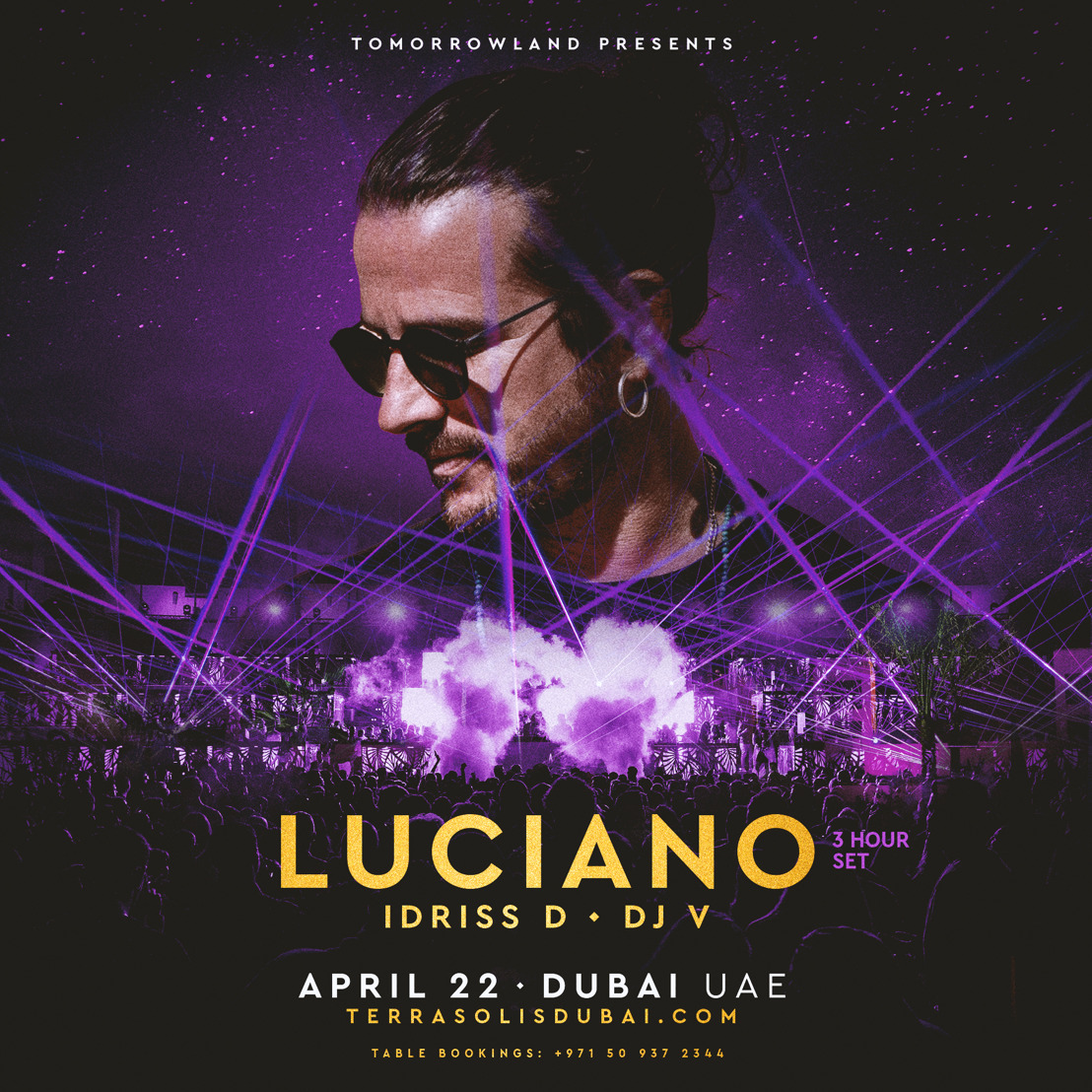 Terra Solis Dubai by Tomorrowland Presents Luciano
Award-winning DJ headlines with a three-hour set at the popular desert destination this Saturday, April 22 2023
Wednesday, April 5, 2023 - Terra Solis Dubai by Tomorrowland is excited to present an unforgettable evening showcasing the legendary Luciano, a five-time DJ Awards winner and Ibiza icon. Luciano will be gracing the stage for a three-hour set at the venue on Saturday, April 22, 2023, from 5 pm until midnight.
Sharing the stage with Luciano will be DJ V and Algeria's own Idriss Doff, both of whom will be supporting the headliner with their electrifying performances.
This event promises to be a once-in-a-lifetime experience, featuring captivating beats and stunning visuals that will take the audience on a journey through the world of electronic music. Event passes are available for just AED 150.
Luciano's reputation as one of the most iconic DJs of all time is well-earned, as he has been making waves in the electronic music scene for decades. With his unique performances, minimalistic techno, and hot-blooded Latin rhythms, he has garnered a dedicated following and will be sure to captivate audiences at Terra Solis Dubai.
To book a table for this highly-anticipated event, call +971 44 59 8300 or message +971 50 935 2344 via WhatsApp.
For more information and bookings, please visit www.terrasolisdubai.com
Fact Box:
What: Terra Solis Dubai Presents Luciano, supported by Idriss Doff & DJ V
Price and Offer:
Event Pass: AED 150 per person
Time: The event is from 5.00 pm until 12.00 am
Date: Saturday, April 22, 2023
Location: Dubai Heritage Vision - Exit 29 - Jebel Ali - Lehbab Road, Dubailand, Dubai
What: Terra Solis Dubai Pool Day Access
Price and Offer:
Monday to Friday – AED200 per person. Includes a sun lounger, and value is 50% redeemable on F&B
Saturday to Sunday – AED300 per person. Includes a sun lounger, and value is 50% redeemable on F&B
Time: From 10.00 am until Sunset
Date: Weekly
Location: Dubai Heritage Vision - Exit 29 - Jebel Ali - Lehbab Road, Dubailand, Dubai
About Terra Solis Dubai
Extraordinary lunch & dinner experiences
​Terra Solis will feature exquisite dining options ready to amaze guests with great lunch and dinner experiences, either inside or poolside. Slated to open later this year, MESA is inspired by the 'Tastes of the World' cuisine of Tomorrowland, serving typical and delicious flavours from all corners of the globe, designed to be shared.
Guests can enjoy a wide selection of drinks and cocktails at the centrally located bar next to the pool and the Sala shisha lounge. They will also be able to experience the true Tomorrowland madness during a range of exclusive events which will be organised at Terra Solis.
Wake up from a night under the stars
​Guests can start their day at Terra Solis in peace and enjoy an energising breakfast in a soothing atmosphere at their private patio or the poolside restaurant. Terra Solis is home to several unique glamping options, including 48 spacious, luxurious and beautifully decorated Polaris bell tents and 20 Perseid lodges, combining the ultimate comfort and style. There are also six Orion pool lodges, each featuring a private pool and a large private outdoor cabana & terrace. The pool lodges are the real eye-catchers, centrally located near the pool with scenic views over the entire destination, offering guests a truly unique experience.
Tomorrowland presents Terra Solis Desert Destination
​Music – Pool – Tastes – Lodge – Magic
​From November 2022 till June 2023
​Dubai – UAE
​Info & bookings: terrasolisdubai.com
Debby Wilmsen Press Coordinator & Spokeswoman, Tomorrowland
Jordy Van Overmeire PR Coordinator, Tomorrowland