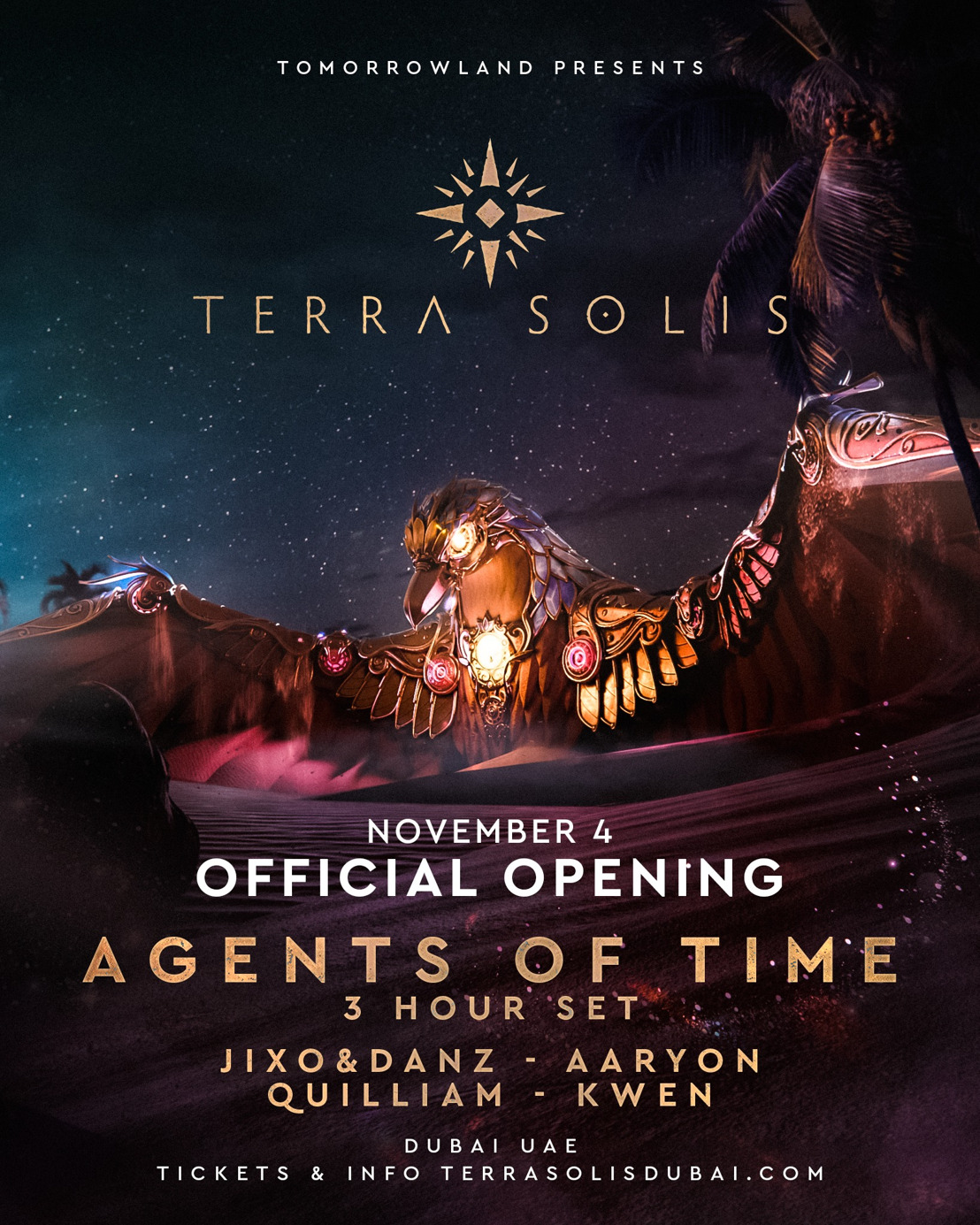 Terra Solis by Tomorrowland: the grand reawakening
Reopening its doors on November 4th featuring headlining act Agents of Time on the iconic Amare Stage, courtesy of Tomorrowland
Thursday, October 26, 2023 - As the sun sets on a scorching summer, Terra Solis by Tomorrowland is gearing up for an explosive revival on Saturday, November 4th. Launching into the winter months with an electrifying line-up, Terra Solis is making a triumphant return, set to conquer the season with a bang.
Terra Solis Dubai in partnership with Tomorrowland, is guests' one-way ticket to the ultimate fusion of party and paradise. Nestled amongst the enchanting desert landscapes, the resort is an oasis of serenity by day and a powerhouse of beats and excitement by night- all just 30 minutes from the heart of Dubai.
After a spectacular inaugural year of hosting some of the world's most celebrated DJs, Terra Solis is back with an extraordinary reopening line-up. Fresh from their thrilling performance at this year's Tomorrowland, the dynamic duo, Agents of Time, will be flying in to headline the official grand reopening, promising to infuse the desert with enchanting magic. Guests can anticipate an enthralling night complimented by supporting acts Jixo & Danz, Kwen, Aaryon, and Quilliam.
Amplifying the excitement, the iconic Amare Stage by Tomorrowland is set to soar from its nest and touch down at Terra Solis for the grand reopening. This iconic bird sculpture, a witness to numerous incredible performances, will set the stage for an unforgettable evening filled with pulsating EDM and irresistible beats.
Doors will open from 6.00 PM and guests are encouraged to book ahead at www.terrasolis.com
Fact Box:
What: Guests are invited to Terra Solis Dubai for an unforgettable re-opening weekend, with special DJ duo Agents of Time and more, on the iconic Amare Stage by Tomorrowland.
When: Saturday 4th November 2023, 6.00 PM
Where: Dubai Heritage Vision - Exit 29 - Jebel Ali - Lehbab Road, Dubailand, Dubai
Tomorrowland presents Terra Solis Desert Destination
​Music – Pool – Tastes – Lodge – Magic
​Dubai – UAE
​Info & bookings: terrasolisdubai.com
Debby Wilmsen Press Coordinator & Spokeswoman, Tomorrowland
Jordy Van Overmeire PR Coordinator, Tomorrowland